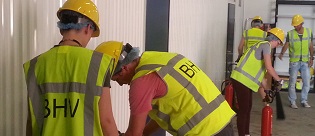 Do you know that it is possible to attend a BHV course in English? People who speak a foreign language can attend the BHV course in English at every NedCert training institute.

The Working Conditions Act in the Netherlands is called "de Arbowet". In this Act it says that the employer shall seek the assistance of one or more employees who have been designated as emergency response experts. We call these workers Emergency Response Officers (ERO).
Sign up now
If you have one or a few candidates, you can sign up your employees here.
Emercency Response Officers
Every company with personnel must have Emercency Response Officers. The tasks of the ERO are:
providing first aid in the event of accidents;
containing and extinguishing fires and containing the consequences of accidents;
raising the alarm and evacuating all employees and other individuals in the business or establishment in an emergency.
Working Conditions Act
The Act also tells us that emergency response staff shall have such training and resources, be of such numbers and be organised in such a way that they can properly perform these tasks.
ISO 17024
At the end of the ERO course there will be an official NedCert examination according to ISO 17024, which will also be in English. If one succeeds, one will receive the ERO certificate, which certificate is valid for 2 years. The ERO certificate is accepted and has the same value as the BHV certificate, the only difference is that it is in English. The course will be provided by certified instructors and consists of theoretical instruction and also a lot of practical exercises. The groups are small, so there will be a lot of personal attention.
Sign up now
If you have one or a few candidates, you can sign up your employees here.